Isle of Man tuition fees vote delayed until new year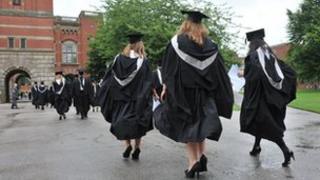 A vote in Tynwald on a government scheme to introduce tuition fees for Isle of Man students has been delayed until the new year.
Last month, the Isle of Man government announced plans to make students pay towards their university education.
The Department of Education (DoE) said undergraduates could be asked to pay at least £2,500 a year, from 2014.
Island students whose parents earn more than £80,000 a year will be asked to pay more.
Sine then more than 1,350 Manx students have signed a petition opposing the introduction of fees.
On Friday, the DoE announced it "would not table new regulations for the scheme at Tynwald, after MHKs petitioned the education and treasury ministers".
'Students are organised'
The politicians called for more time for a public debate on the proposals.
Former education minister Peter Karran, opposes the introduction of fees.
"We are going back to when I was a kid and you had little or no chance of going to university," he said.
"The fact that is really saddening about this affair is that yet again education is being cut and cut and cut.
"The students are organised and have been writing letters and as far as I am concerned they should be congratulated for the rethink on this policy."
Education minister Tim Crookall, said the new measures would mean Manx students are still given more help than those from the Channel Islands or England.
He said: "The fiscal challenges facing the Isle of Man mean we have no choice but to ask Tynwald to support these measures."
The island DoE currently spends £11m of its £95.8m annual budget on student awards, supporting 1,400 Manx students every year.
The changes, said a spokesman, will lead to an annual saving of £4.4m-a-year.