Undersized queenies prompt Manx government warning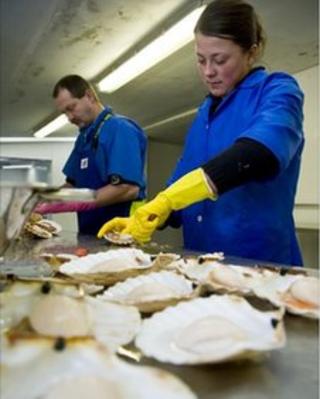 Fisheries minister Phil Gawne has spoken of his anger after a significant discovery of undersized queenies was made in a processing plant in Peel.
Mr Gawne MHK said they were brought to the island for processing by a UK vessel fishing in Liverpool Bay.
He said: "This landing showed complete disregard for the future of the Irish Sea fishery."
The queenies met the European size standard, but much of the catch was smaller than the island's 50mm minimum.
A spokesman for the processing plant said: "We only discovered they were undersized during the sorting process and the fisherman had gone.
"They are useless to us at this size. We have been messed around."
Mr Gawne said: "If they are too small to process they are simply dumped as they are deemed unprofitable.
'Chance to mature'
"They should be left on the seabed until they have had a chance to mature."
Over the last decade the Isle of Man government has worked alongside Manx fisherman to balance commercial needs and the need to protect the marine environment.
Manx fisherman now use light mesh trawls instead of dredging the sea bed, while juvenile queenies are thrown back into the sea and protected.
Mr Gawne added: "I am powerless to prevent fishermen from wiping out the stock outside Manx territorial waters.
"However, I will not condone or tolerate the carriage or landing of this rubbish through our waters."
The minister now has marine officers to step up random checks on dredgers.
He said: "I would remind all skippers that it is an offence to possess undersized queenies in the Manx territorial sea, no matter where they may have been caught."
The Department of Agriculture, Fisheries and Forestry has written to the skipper to outline the legal position and explain the government's concerns.
Last month Isle of Man queenies were awarded the European Union Protected Designation of Origin (PDO) stamp.
The Manx queenie fishing season ended on 4 September to protect stocks.
Each year, the Isle of Man exports £8m worth of the scallops through three processing plants with the majority going to France, Spain and Italy.