Isle of Man bus strike leaves children taking steam train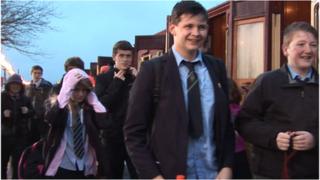 A three-day bus strike in the Isle of Man has led to hundreds of children taking a steam train to school.
The move was prompted by a walkout of Bus Vannin drivers, over new measures that include a £3,000 pay cut.
Final talks failed on Tuesday between union bosses and the government, which has brought in the changes in a bid to save £300,000 a year.
Drivers are also angry that they face an increase in driving time the government wants to impose.
As a result of the action, a temporary platform has been erected on Castletown bypass from where Castle Rushen High School pupils will walk.
'Destroy the workforce'
Driver Billy Chestnut said the strike could have been avoided but "nine months of one-way negotiations [with the Department of Community, Culture and Leisure] have led us here".
"The Department has an insatiable appetite to destroy the workforce," Mr Chestnut said.
His colleague Andy Hurd added: "We want an end to this hypocrisy. We don't want to be singled out as the only DCCL workers to take a 12 per cent pay cut.
"Once they pick us off they will start with everyone else."
Another driver Jim Quinn said: "Our passengers are 100 per cent behind us. If anyone takes a pay cut it should be the MHKs."
According to the Unite union, 90% of Bus Vannin drivers voted in favour of the strike.
'Financial difficulties'
Eric Holmes, the union's regional officer, said: "Right up to the last moment we offered compromises but they (DCCL) wouldn't budge.
"The government has failed these drivers.
"This is the largest scale industrial action on the island for more than 20 years".
DCCL minister Graham Cregeen said: "It is unfortunate that the drivers' representatives still do not accept the financial difficulties that face both the department and the island.
"At least we are able to use our heritage railways and a number of non-union drivers to deliver the core services at this important time."
A limited bus timetable will remain in operation on some routes until Sunday.
Islanders have divided opinions on whether they support the drivers.
Using the BBC Isle of Man Facebook page, Joanna Drysdale said: "I am sure I'll manage for a few days. I support the bus drivers' strike if they decide it's the right thing to do.
However, Charlotte Birtles said: "It's ridiculous, now going to have to walk nearly an hour to get to town with my two year old."
Kris Novak wrote: "Drivers need to get a grip, times are hard people are losing much more than just their lunch hours."
The department is urging people to check bus timetables before they travel - and says the emergency timetables are online.