Isle of Man police probe green way booby-trap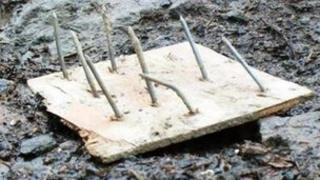 An investigation has been launched after pieces of wood pierced with sharp nails were discovered on a green way road in the Isle of Man.
The discovery was made by a walker between the Switchback Road at Lhergydoo and the Staarvey Road in the west of the island.
Police said a number of identical incidents have been reported to them on the same track over the past two years.
PC Ian Scott said they are taking the matter "extremely seriously".
Anyone who has information is asked to contact Peel police station.
'Very real danger'
Mr Scott said: "We are only aware of this particular section of land that has been affected.
"The law treats green way roads the same as any of the island's public roads and anyone caught will be prosecuted."
According to police the offence carries a maximum sentence of seven years in prison and a fine of up to £5,000.
Mr Scott added: "We can only speculate over the motivation but the object presents a very real danger.
"Not only could bicycle and motorcycle tyres be damaged, causing riders to lose control, but walkers and livestock could easily have been seriously injured."