Hundreds expected for Isle of Man tuition fee protest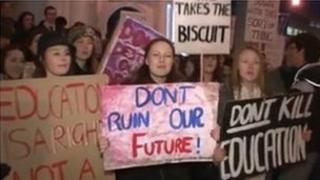 Hundreds of people are expected to protest against plans to introduce tuition fees for Isle of Man students.
Demonstrations have been planned for the January sitting of Tynwald when members are due to vote on the issue.
Last November, the education department announced students could be asked to pay at least £2,500 a year, from 2014.
St Ninian's student, Jack Gibney hopes the protests will show it is not just students who are against the changes.
"We hope to be joined by medics and other professionals because the changes will affect many different people, on many different levels," he said.
"It seems the Isle of Man is already having problems recruiting young professionals to come and work here- making it more difficult for Manx students to get to university would hinder that process even more."
'No going back'
Since the plans were announced last year, a Facebook group called The Student Organisation Against Fees has gathered the support of around 1,365 people.
Students will also present a petition to Tynwald on 15 January.
"Once you have agreed that people should pay for education there is no going back," continued Mr Gibney.
"It is an ideological step and if the UK is anything to go by, it could mean the £2,500 is just the beginning - we could see these charges increasing over time.
"We intend to make the government listen to us and we are really hoping we can have an affect the voting."
The education cut, which is expected to save about £4.4m a year, would mean charging most undergraduates at least £2,500 a year, from 2014.
Island students whose parents earn more than £80,000 a year will be asked to pay more.
The island Department of Education currently spends £11m of its £95.8m annual budget on student awards, supporting 1,400 Manx students every year.
The changes would lead to an annual saving of £4.4m-a-year, a spokesman said.