X Factor seals: Stranded Isle of Man pups returned to the wild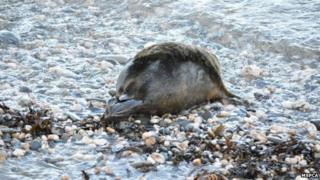 Two seal pups nursed back to health after they were stranded off the Isle of Man coast in stormy weather have been released back into the wild.
The seals named after the X Factor judges Gary (Barlow) and Tulisa (Contostavlos) were rescued at just four weeks of age.
The pups are the latest to be nursed by Jenny Corran at the Manx Society for the Prevention of Cruelty to Animals.
Ms Corran said she was "delighted to see them back where they belong".
The MSPCA has rescued and returned more than 100 seals since 2001.
Ms Corran said: "They arrive underweight and we help them to regain their strength on a diet of fish soup, vitamins and herring.
'Will to fight'
"We only release them when they are 100% ready.
"You don't have any doubts whether they will make it or not - you know they are going to do it because they have the will to fight."
When the pups are born they weigh around 12kg and a healthy seal pup can weigh as much as 60kg within three weeks.
Ms Corran said: "The mother weans herself straight away and goes back to sea to fish.
"The pups have to shed their white coats and learn to fish almost immediately.
"If it is bad weather they won't fish. So they can actually go back to birth weight and that's when we come in."
Although grey seals are a familiar sight around the Isle of Man, they are one of the rarest seals in the world.
According to the Manx Wildlife Trust, about 40 pups are born in Manx waters each year.
The MSPCA in Ard Jerkyll is still nursing three seals named Simon (Cowell), Nicole (Scherzinger) and Cheryl (Cole) back to health and plans to release them towards the end of the month.