Solway Harvester scrapping process to begin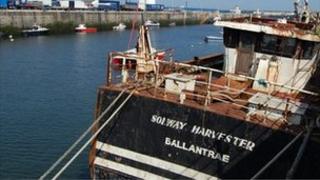 The process of scrapping a fishing boat which sank off the Isle of Man 13 years ago, with the loss of seven lives, will begin next month.
All seven Scottish crew members died when the Solway Harvester, a scallop dredger, sank off the Ramsey coast in January 2000.
The Department of Infrastructure said the process would start in February.
Victims' families are taking action against the previous owner but it has been decided the vessel is not needed.
Director of Harbours, Captain Michael Brew, said: "It will be handled with the greatest sensitivity.
"It has been in Douglas harbour now for more than 12 years and we would all wish for an end to this now.
"We will be handling its scrapping with the greatest care and respect for the families."
'Sensitive manner'
According to Mr Brew, expressions of interest from suitable contractors will be placed in the media followed by a tendering process.
He said: "Given the need to deal with this work in a sensitive manner, the tenders and proposed method statements will be carefully assessed."
The Solway Harvester sailed from Kirkcudbright in the early hours of 10 January and headed to the queen scallop grounds of the Irish Sea.
The vessel sank in stormy waters and was later found lying on its side in 35m (115ft) of water.
The bodies of all the crew members were still on board. The men were all from the Isle of Whithorn area of Dumfries and Galloway.