Isle of Man 'relief' at Solway scrapping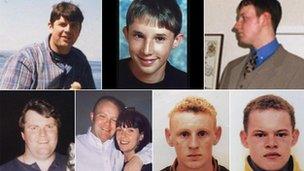 Isle of Man residents have expressed relief at the announcement that the Solway Harvester is to be scrapped, 13 years after it sank off the Manx coast.
The Scottish scallop dredger sank in heavy seas in January 2000 with the loss of seven fishermen from Galloway.
The Isle of Man department of infrastructure said the process of disposal would begin next month.
George Forward from Ballasalla told the BBC: "I'm relieved about the news - it really is an eyesore in the harbour."
He added: "We saw the vessel when it was brought into Ramsey about a week after it was recovered. It is in a worse state now than it was then."
The vessel has been moored in Douglas harbour for more than 12 years because it was being used as evidence in ongoing legal action between the families of the dead crew members and the vessel's owner.
At the beginning of the year however, the Manx government announced it was no longer needed and would therefore be scrapped.
"This will mean closure for the people who have lost loved ones - they need that now," said Faye Forward from Ballasalla.
"It has deteriorated over the years and it needs scrapping. It will be better for the Isle of Man as well," she added.
The government said it is currently looking for suitable tenders to come forward with proposals about how to dispose of the vessel.
The Solway Harvester sailed from Kirkcudbright in the early hours of 10 January and headed to the queen scallop grounds of the Irish Sea.
It sank in stormy waters and was later found lying on its side in 35m (115ft) of water.
The bodies of all the crew members, who were all from the Isle of Whithorn area of Dumfries and Galloway, were still on board.
Related Internet Links
The BBC is not responsible for the content of external sites.