New by-pass in southern development plan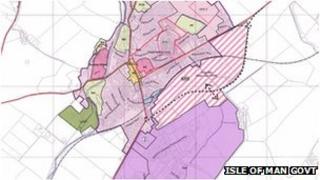 A new by-pass in Ballasalla has been put forward as part of plans to develop the south of the Isle of Man.
The road would divert south-bound traffic away from the village centre, through to Balthane Industrial Estate.
It is hoped the scheme, included in the Southern Area Plan, will be part-funded by developers interested in the area.
Infrastructure minister, David Cretney said "Without giving this commitment, it would be unlikely that developers would be given permission to build."
The Southern Area Plan has been the subject of political debate and public consultation for about five years.
A final decision is expected to be made at the February sitting of Tynwald.
A government spokesman said the vision includes strategies to manage growth whilst preserving the landscape and heritage of the area.
Planning Policy Manager, Emily Curphey said: "Our traffic data shows there is no actual requirement for us to have a by-pass but we know that in the future there may be that need.
"So on that basis, and following the recommendation of the inspector, we have released a site at Ballasalla for immediate development which means the developer can start looking at where and how the by-pass should flow though the site."
Detailed information on the plans is available online.