Union bosses seek 'clear mandate' from bus drivers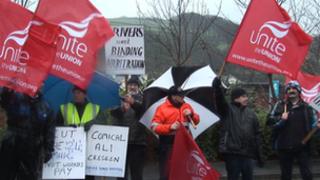 Isle of Man bus drivers who voted against a government deal to end a dispute over pay and conditions will meet with union bosses on Thursday.
In a secret ballot on Monday, 56 of 79 drivers rejected a new deal, the terms of which have not been made public.
Eric Holmes of the Unite union said he needed to establish a "clear mandate of how workers want to move forward".
The Manx government had hoped its latest proposals would rule out further industrial action.
Bus Vannin drivers had already staged walk-outs in December and January over new measures, including a £3,000 pay cut.
'Alternative solutions'
The Department of Infrastructure brought in changes to driver contracts in a bid to save £300,000 a year.
A government spokesman said: "We are disappointed that bus drivers have rejected the proposed new terms and conditions.
"The department worked hard with the union to present an offer that balanced the department's need to make savings and the union's wish to protect the interests of its members.
"Discussions are ongoing to identify alternative solutions that may be available and keeping within the savings that are required.
"In the meantime, all drivers are currently working under new terms and conditions and these will remain in place ensuring that the department's savings targets are met."
Eric Holmes added: "Communication is incredibly important and we hope to have a full turn out at Thursday's meeting."