Fred Dibnah's son helps restore Isle of Man steam train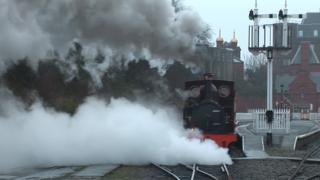 A steam train partially restored by the son of celebrity steeplejack Fred Dibnah has returned to the Manx tracks after five years.
Jack Dibnah was one of several workers who helped restore the Number 15 Caledonia to its former glory.
He said it has been a "long slog putting it back together" but that it was "nice to see it in one piece".
The train will carry its first passengers since 2008 on Saturday before returning to service in March.
Steam railway workshop supervisor Chris Barlow said it had suffered a lot of wear and tear in its working life.
He said: "It has been used as a snow plough for various shunting duties around the yard so it has had a hard life and been under maintained."
The engine was taken out of service in 2008 for its 10-year boiler inspection.
Mr Barlow added: "She had been suffering with reliability so we decided we would do a decent job."
'Proud dad'
Extensive work was carried out on the train's parts by a Hertfordshire-based company but the reassembly was all done in the Douglas workshops.
Jack Dibnah, son the late Fred Dibnah, who became a television celebrity and star of 20 documentaries, has been working on the project since last year.
He continued: "I have been brought up with this work - it has always been in the family.
"My dad was proud when I got this job he would have loved to see the train setting off. It is one of my favourites."
The engine, built by Dubs of Glasgow in 1885, will complete four journeys this month before returning for the summer service in March.
It has been painted in its original Manx Northern Railway livery of Metropolitan Carriage red.
Enthusiasts from all over the world will travel to the island this summer for the chance to drive the restored train - as part of the 'Ultimate Driving Experience' project, which currently has a two-year waiting list.
In its life the engine has worked on the Foxdale mines, the Snaefell Mountain Railway and the line to the internment camp at Knockaloe during World War I.