Bendy buses begin month-long trial on Manx roads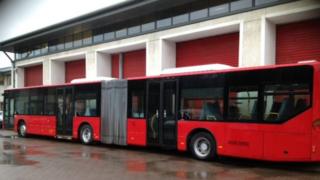 Isle of Man passengers will get their first experience of bendy buses on Monday, when a month-long trial begins.
Two buses arrived earlier this month and drivers are currently being trained to drive the vehicles along the island's winding country roads.
Bendy buses can carry more passengers than a double decker.
Following the trial a working group of representatives from several government departments will assess the vehicles' performance.
'Emotional response'
There has been widespread concern the buses would not be suitable on the island's roads including concerns from within the Department of Infrastructure.
Community, Culture and Leisure minister Graham Cregeen said he is "fully aware that the potential to operate articulated buses in the island has received an emotional response."
He said: "There are many misunderstandings about the safety and road requirements for these buses and I hope that this trial goes a long way towards alleviating them."
The trial will examine ride quality, passenger experience and accessibility as well as examining feedback from drivers.
Anyone who uses the busses during the trial can submit their views to Transport Headquarters in Douglas.
The results of the trial will be brought before Tynwald.