Isle of Man gorse fire rages out of control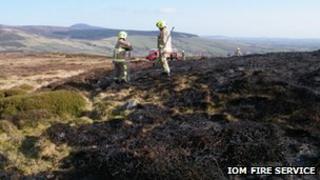 A planned gorse fire in the south of the Isle of Man "spread unexpectedly out of control" to cover an area of about 6,000 square metres.
The blaze spread at about 10:00 GMT on heath land near Ballakillowey.
The fire spread quickly because the gorse was dry after a the recent dry weather on the island, and took more than two hours to put out.
Station officer Carl Kinvig said people should "always inform the emergency services of any planned burning off".