Castletown Bay cleared of rubbish by volunteer group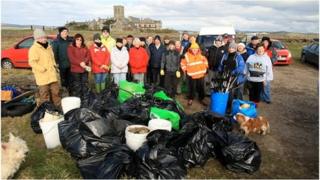 A half-mile stretch of coastline in the south of the Isle of Man has been completely cleared of litter by a local beach cleaning organisation.
More than 30 bags of litter were cleared from Castletown Bay by dozens of volunteers from Beach Buddies.
The event was part of the group's Big Team Beach Clean campaign.
Organiser Bill Dale said: "We have got a huge problem on the Isle of Man with beach litter so I am really made up to have had such a successful day."
As stretch of coast at Derbyhaven Bay was also cleared.