Isle of Man airport passenger numbers down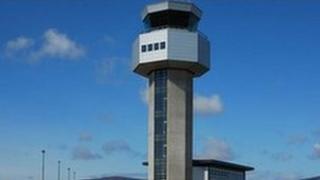 A fall in the number of passengers travelling through the Isle of Man's airport during 2012 has caused "disappointment" and "concern".
An airport spokesman said a down turn in business of almost 1% has been felt across many European destinations.
Manx government figures reveal a drop of about 5,000 passengers in one year.
MLC David Callister described the trend as "disappointing" and expressed concern about the suspension of some routes between the island and the UK.
"We are conscious of the delicate economics of some our more fragile routes, and will be looking at ways to make the operation of the Isle of Man Airport more cost effective in the future," he said.
During 2012, Ronaldsway airport operated 21 different routes to and from the Isle of Man, with most (two-thirds) suffering a downturn in business.
The worst-hit services during the year included Flybe's Luton service (down 25%) and Birmingham service (down 5.6%).
However, a Gatwick service operated by both Flybe and EasyJet, boosted airport passenger numbers by 16,000 towards the end of the year.
"The last two or three months [of 2012] have shown more promise," said Airport Director, Anne Reynolds.
"But primarily in the major markets of London and the North West - other regional routes continue to have a tough time, and there is little sign of an underlying improvement yet."