Back up plans in place for Isle of Man bus strike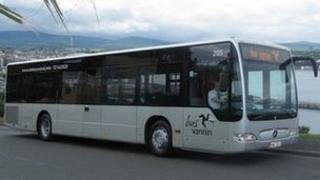 Several back-up plans are in place to help people travel during the Isle of Man bus strike, the government said.
Last week, the Unite union announced that drivers will stage two separate walkouts on Wednesday, from 07:30 to 09:30 GMT and from 15:00 to 17:00.
A government spokesman said a reduced service will still be run for the duration of the strike.
Drivers voted for further strike action in a long-running dispute over measures including a £3,000 pay cut.
Bobby Moreton, of Unite, said drivers voted "unanimously in favour of escalating their industrial action".
'Sunday timetable'
Nick Black, of the government's community culture and leisure department, said: "Subject to changing conditions during the strike, buses are scheduled to operate timetables based on the regular Sunday and Bank Holiday timetables for the full day but with additional services at peak hours to serve schools and commuter travel."
The Isle of Man Steam Railway and Manx Electric Railway will also operate at peak times for schools and commuters.
A full bus time table for Wednesday is available online.
Extra parking has been made available on Circus Beach and the Bowl car park in Pulrose.
Bus Vannin, run by the Isle of Man's Department of Community Culture and Leisure, has been affected by cross-governmental cuts aimed at saving the department £1m a year.
The cuts are part of the the Manx government's attempts to rebalance its finances over a four year period since the UK brought an end to a VAT sharing agreement, which left a hole of £75m a year in the island's income.
Bus Vannin drivers have already staged walkouts in December, January and February.