Bendy bus to be used on Isle of Man passenger routes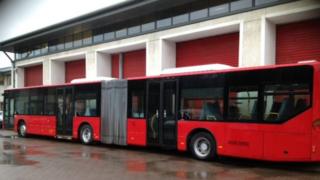 A bendy bus on trial in the Isle of Man will be used on a limited number of passenger routes on Saturday, the government has announced.
The articulated vehicle will operate on some services between Douglas and Ramsey between 09:40 and 15:55 GMT.
Community, Culture and Leisure Minister Graham Cregeen said he hoped the trial would help his department make an informed decision on their suitability.
Bendy buses can carry more passengers than a double decker.
Two buses arrived on the island in January and drivers have now been trained to drive the vehicles along the island's winding country roads.
'Reliability issues'
A working group of representatives from several government departments will assess the vehicles' performance before the results are brought before Tynwald.
Two buses have been used on some school routes over the past month.
Mr Cregeen added: "Whilst there have been some reliability issues due to the length of time the buses were idle, the trial is progressing well."
There has been widespread concern the buses would not be suitable on the island's roads including concerns from within the Department of Infrastructure.