Off-road bikers make 'countryside into war zone' claim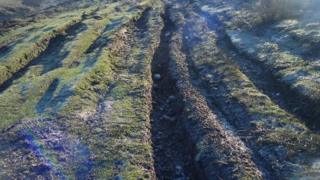 Off-road bikers are damaging the Manx countryside and making ancient green way tracks into "war zones", according to a conservationists.
Brian Beattie from Manx Footpath Conservation said motorbikes should be banned from the countryside paths.
He believes some of the upland trails, which are open to off-road bikes, are being damaged beyond repair.
Mr Beattie added: "This activity is eroding our beautiful heathland, which is beginning to look like a war zone."
There are about 120km of unsurfaced roads on the Isle of Man, 24km of which are upland trails.
The most sensitive tracks are closed during the winter months but reopen each spring.
'Ancient land'
A recently established non-governmental organisation, Green Lanes-Our Heritage, is now calling for the government to ban all motorbikes from these tracks all year round.
Spokesman Richard Crowhurst said one area of concern was the Millennium Way, established in 1979 to celebrate the millennium year of the Manx parliament.
The path runs through the centre of the island linking Ramsey and Castletown and is said to have been recorded in the 13th Century Chronicles of the Kings of Mann and the Isles.
"Quite a significant proportion of off-road bikers feel it is their birth-right to come up here and destroy this ancient land," added Mr Crowhurst.
"Some of the ancient tracks are being systematically destroyed and if the government doesn't act there will soon be nothing left."
A government spokesman said bikers were straying off the Green Lanes and ignoring closure signs.
The environment department, which typically spends spends between £25,000 and £50,000 a year maintaining the Green Lanes, and employs a warden who patrols the countryside to make sure no one is breaking the rules.
Rowan Bakker, who owns a company providing off-road motorbike tours of the island, said: "I would say we should live and let live.
"The damage to the uplands has been created by a variety of users, including 4-wheel drive vehicles, walkers and horse riders, we shouldn't just pick on the bikes.
"We make sure people stick to the right tracks and people travel here from all over the place because it is a great way to see the Isle of Man- it is a growing business and a good thing for tourism."
Because of the wet weather the Manx government recently announced that the Green Lanes would remain closed for an extra month this year, opening on 1 May.