Isle of Man farmers to receive emergency support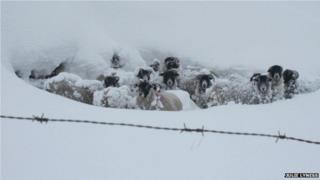 Isle of Man farmers are to receive emergency support from the government, as the search continues for thousands of livestock buried in the snow.
The Manx farming community is facing "catastrophic losses", with thousands of sheep and cattle yet to be found.
Agriculture Minister Phil Gawne said the severe weather last week has caused "devastation" on the island.
He added: "The council of ministers has agreed to fund some kind of emergency support for the agriculture industry."
About 90% of the Isle of Man is given over to agricultural production with in the region of 450 farms, some with only a few livestock but some with hundreds.
"The first thing we are going to do is waive the fee for disposing of dead animals, that will help in the short term and as soon as we have an idea of the full extent of the problem we can look at providing some financial assistance," Mr Gawne said.
'Extremely bleak'
"It is unlikely that many of the farmers were insured against such a freak event so we know that the situation is extremely bleak."
According to the Isle of Man meteorological office, the island's recent snowfall was the heaviest since 1963.
Forecaster Neil Young said: "To our knowledge, these are [the] worst drifts on the Isle of Man since then.
"It was forecast four or five days in advance and we sent out a severe weather warning but there is very little preparation you can make for something like this.
"The worst hit areas seem to have been on the west coast of the island, places like Patrick, Kirk Michael, Peel, Glen Maye Dalby and St John's."
John Kennaugh from Ballaleece, who has been a famer all his life in the St John's area, said: "Of course we have seen bad conditions in our time but I think last Friday was one of the worst days I can remember.
"In one day we had rain, snow, wind and frost. We could have dealt with anyone of those individually but when they all came together, its was an unfolding horror story.
"We are a week into lambing and two weeks into calving, the timing couldn't have been worse."
An emergency helpline was established by the department of agriculture on Monday and has since led to a series of co-ordinated livestock searches around the Manx countryside.
There have been about 100 calls from both farmers and members of the public offering help to find the sheep under snow drifts of up to 20ft.
The community spirit is something the farmers are extremely grateful for, said Mr Kennaugh.
"At this point in time it is not the money we are concerned about, it is our stock, when I settle down into a warm bed at night I feel guilty because I know the conditions my stock are lying in, it's not all about money," he said.
"There will undoubtedly be a financial impact as well, we are hearing about not just dead stock but buildings which have collapsed under the weight of the snow, some of them with cattle inside - the cost will be extensive, we know that much."