Isle of Man pupils join beach clean campaign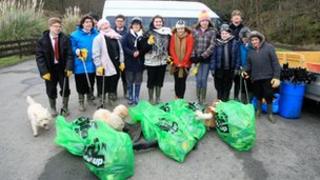 A group of high-school pupils have become the latest recruits in a volunteer campaign to clean up the Isle of Man's coast line.
The students from St Ninian's High school in Douglas have teamed up with Beach Buddies, formed in 2006.
The organisation has worked alongside private companies and environmental groups to help remove rubbish from Manx beaches.
Group leader Bill Dale said the move could help promote long-term change.
He added: "Previous generations have failed to tackle this problem, and we are now left in a position when a huge majority seem to have abandoned the idea of protecting the environment.
"You only need to look at the rubbish at the side of the roads to see that vast numbers of people simply throw their rubbish out of the car window, which is totally unacceptable."
The students plan to work with Beach Buddies until the end of the summer term at various venues across the island for a monthly beach cleaning project.
The group said its aim is to make Manx beaches "the cleanest in Europe".
"I genuinely believe that with the help of young people like the St Ninian's students this can be achieved," continued Mr Dale.