Isle of Man volunteers praised for snow work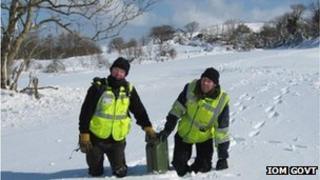 Civil defence volunteers who gave 400 hours to help Isle of Man residents during the recent snow storms, have been praised by the government.
The group was involved various rescue missions, including evacuation, digging out sheep and clearing snow from paths.
A government spokesman said volunteers worked alongside the police and with the fire and ambulance services.
Home Affairs Minister Juan Watterson said: "Their commitment is testament to the island's community spirit."
According to the Isle of Man meteorological office, the snowfall on 22 March was the heaviest recorded since 1963.
In total, five people had to be rescued from their homes after they were left without power.
Three people, including an elderly lady, were rescued from Cronk Y Voddy on 24 March after they were cut off by huge snow drifts.
"Their support was extremely valuable during multi-agency incidents and provided added reassurance to the local community," Mr Watterson said.