New fish yard to 'grow Isle of Man economy'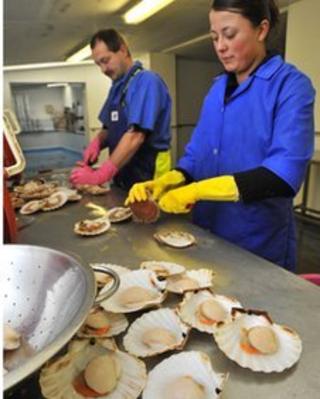 A newly developed food park in the west of the Isle of Man will help grow the Manx economy and create about 80 jobs, according to the agriculture minister.
The second phase of development in Peel, costing about £1.4m, was given Tynwald approval on 16 April.
Phil Gawne said the facility would bring investment to a neglected area and help boost fish exports.
He added: "The area hasn't had the loving care needed over the years to keep it in a reasonable standard."
The area set for development, on Mill Road in Peel, will be primarily concerned with processing fish and centres around an established processing site.
The government said the money was needed to update an "ancient" infrastructure of drainage, sewerage and power.
Each year, the Isle of Man exports about £8m worth of scallops and the industry currently supports about 150 jobs at sea and 200 on land.
"We are working closely with the department of economic development to try and encourage employers to take on Manx workers wherever possible," added Mr Gawne.
"The results so far have not been particularly good, I have to say - we have had a very very poor retention rate of Manx workers but I would have thought that when times are hard and jobs are scarce people would have been prepared to take on these reasonably well paid jobs.
"If people chose not to take these jobs we need to look long and hard at the current benefit system which allows them to have that luxury."