Isle of Man TT: Ted Fenwick, 85, bids for title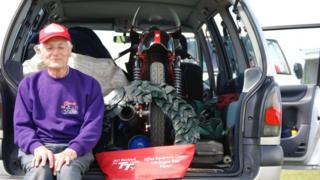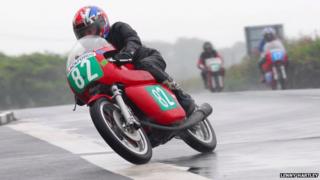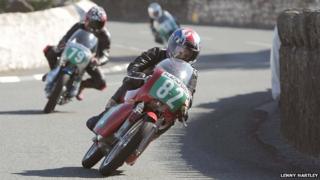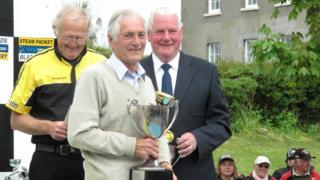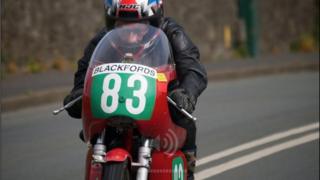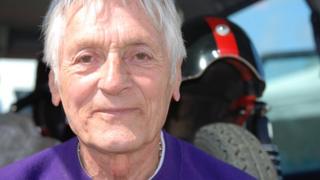 At the age of 85, Ted Fenwick would far rather slip on his leathers than his slippers.
The grandfather of three from York has been racing motorbikes for six decades and is a four-time winner at the Isle of Man's Pre TT Classic races, most recently in 2011, aged 83.
Last year the retired engineer was narrowly beaten into second place in his favourite 250cc class, having won the event for three consecutive years, regularly finishing ahead of competitors a fraction of his age.
"I love to give the youngsters a run for their money," he said. "You can't put a price on experience."
He discovered his love of motorbikes as a teenager and raced all over the UK for 20 years before taking a break to raise his family.
'Wonderful character'
His family have always supported him but his wife Margaret, who passed away in January, was not a fan of his pastime.
"She never liked me racing but she never once asked me to stop. She was a wonderful wife."
He returned to racing in 1982 and has been coming back to the Isle of Man each year since 1987.
The event's organiser Phil Edge said: "He is a wonderful character and a real asset to our event.
"He finished second last year - so I reckon he has some unfinished business."
Mr Fenwick continued: "It all started when I was doing grass-track racing as a teenager.
"After going to see a road-race meeting I was hooked. I bought an old bike and I've been racing ever since."
'Tip-top condition'
During his racing career, Mr Fenwick has been ended up in hospital on several occasions, breaking many bones along the way.
"It's never put me off. I've just been lucky. A lot of people with injuries like that wouldn't be here. If you love it, you carry on with it - that's my motto."
Geoff Shaw, 67, has been travelling around the country with Mr Fenwick for 20 years and is charged with preparing Ted's beloved red Ducati machine.
"It's always in tip-top condition and we love keeping it that way. Last year Ted was narrowly beaten by Bob Millinship and knowing him he will definitely see that as a challenge."
Mr Fenwick said: "It was quite simple - he was younger and quicker than me."
This year he said he has three objectives - to finish the race, to make the podium and to improve his times.
He said: "Winning is a bonus. I do it because I love it - I am not looking for glory."
The speedy pensioner can average 75mph during the 250cc race, held over six laps of the 4.25-mile Billown circuit in the south of the Isle of Man.
The Pre-TT Classic Road Races act as the traditional curtain-raiser for the TT fortnight on the Isle of Man.