Isle of Man three-legged world record attempt needs runners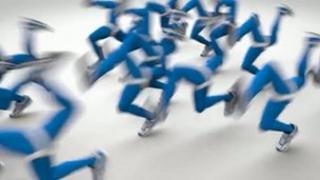 A "significant" number of people are needed for an Isle of Man attempt to set a new world record for the largest three-legged race next month.
So far, about 400 people (200 pairs) have signed up but at least 1,102 (551 pairs) are needed to break the current record set in Morecambe in 2012.
An event spokesman said "enthusiasm for the race is building" but that they still need a "significant number."
The Three Legs of Man is the Isle of Man's national symbol.
Organiser Simon Scott said: "There is only one group of people who should hold the record for this race - the people of the Isle of Man."
The record attempt, which will be held on 6 May, will see pairs completing a 200m race along Douglas promenade.
The Isle of Man previously held the record in 2009 when 468 pairs finished a race.
Mr Scott added: "We need to bring the record home again - it's time to re-claim our pride!"
All of the money raised will be given to the Isle of Man Children's Centre.
A variety of other entertainment is also planned for the day.
Anyone wishing to take part can register online.