Crab and lobster fishermen sign "ground breaking lease"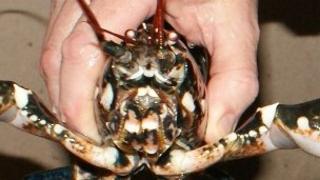 A lease signed by crab and lobster fishermen in the Isle of Man has been described as "ground breaking" by the island's Environment minister.
Under the agreement fishermen will be handed responsibility for the conservation and management of crab and lobster stocks in Baie Ny Carrickey.
During the six-month lease they will also monitor juvenile lobsters.
Phil Gawne MHK said: "It is a ground breaking idea which will provide valuable conservation data."
'Livelihoods at risk'
The move was the idea of the newly established Baie Ny Carrickey Crustacean Fishery Management Association.
The Association's Christian Clugston said: "At a time when many fishermen are worried that increases in fishing effort are putting their livelihoods at risk, we are very pleased that we are now in a position to manage effort in our fishery, and ensure that it is sustainably run.
"We have a responsibility to ensure that we do not overfish the Bay and we will have measures in place to ensure that this is the case. These include scientific monitoring which we will be undertaking ourselves plus advice from independent fisheries scientists."
Until October the number of pots fished and raised will be limited and the minimum size of lobsters and crabs which can be landed in the Bay raised.
Mr Gawne said he "welcomed the group's management actions"
He said: "They have agreed to carry out extra monitoring of juvenile lobsters and this could, in time, provide invaluable data which will help us understand the fishery better.
"This is another example of our fishing industry developing into a mature custodian of the marine environment, rather than taking the short term view.
Mr Gawne added that his Department would "carefully monitor" the venture and that if successful it could be used as a "template for other Manx fishermen to take responsibility for their own fisheries."
'Scallop ban'
The lease is in place until 31 October 2013 and a government consultation will be launched in coming weeks to gather views on future arrangements.
Baie Ny Carrickey, near Port St Mary, is one of six fishing zones to have a government imposed ban on scallop fishing.
The ban came into affect in November after a committee was formed to find ways of protecting marine life without damaging the Manx fishing industry.
The 11 sq km (1100 hectares) area of seabed, includes kelp forests, rocky reef habitat and limestone ledges encrusted in marine life.
According to the Isle of Man government around 3% of the Manx seabed is now protected from trawling and dredging.