Manx whale and dolphin research delayed by vandals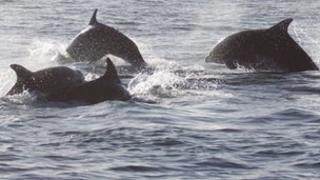 Whale and dolphin research work around the Manx coast has suffered major delays after vandals damaged a boat belonging to a marine charity.
Tom Felce from the Manx Whale and Dolphin Watch said the orange rigid inflatable boat (RIB) was damaged with a knife or scissors.
It is thought the boat, which was in Peel boat yard at the time, will cost about £2,000 to repair.
Mr Felce added: "That's a lot of cash - we are really annoyed about the delay."
Researchers planned to deploy a series of acoustic devices to find out how many whales, dolphins and basking sharks visit Manx waters during the summer months.
In addition, the charity had planned to increase the amount of photo identification which would show if the whales and dolphins return to the Isle of Man every year.
"We only bought the boat last year and we have only had it in the water a couple of times to test it out.
"Now we have to get it fixed. This has meant major delays to our work," said Mr Felce.
Anyone with information about the incident is asked to contact Peel police station.