Isle of Man residents embark on poverty challenge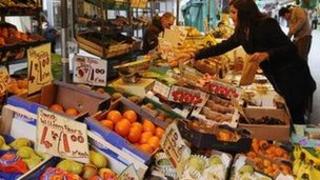 Around 20 people in the Isle of Man, including the island's bishop, are to take part in a global campaign to raise awareness of extreme poverty.
The Live Below the Line campaign will see people all over the world attempting to live on a food and drink budget of £1 a day for five days.
The island's Global Poverty Ambassador Kristina Crawford, who is taking part, said it will be "eye-opening".
Last year island residents raised about £1,500 during the campaign.
In 2012, more than 20,000 people across the world undertook the week-long challenge raising more than $3,500,000 (£2,267,573) for critical anti-poverty initiatives around the world.
The challenge is an initiative of the Global Poverty Project, whose mission is to increase the number and effectiveness of people taking action against extreme poverty.
'Transformational experience'
Ms Crawford added: "It helps you better understand the issues faced by the 1.4 billion people who currently live extreme poverty, in a engaging way.
"We're not trying to replicate poverty but give people a deeper understanding of it - it's a transformational experience.
"Of course, for those living in extreme poverty, it's not just five days nor is it the choice between brown or white rice, but often the choice between feeding your family or life-saving healthcare for your loved ones. I hope others will sign up".
Environment minister Phil Gawne will be taking on the challenge for a second year.
He said: "I was surprised at how I managed last year.
"I made a choice to gain this experience but it is very humbling to know so many people all over the world don't have that choice.
"I managed on soup and broth and a small amount of bread and I think I lost around 5lbs and spent £5."
All four of the island's Global Poverty Ambassadors are taking part alongside the Bishop of Sodor and Man the Rev Robert Patterson, MHK's, a group of children from St Ninian's High School and other local people.
The challenge begins on Monday.