Isle of Man TT: Homestay registrations hit 500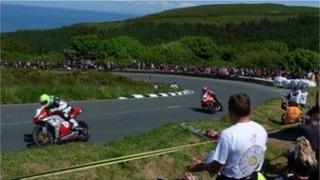 Around 500 Isle of Man homeowners have registered for the government run TT homestay scheme ahead of this year's event which starts in May.
Last year, about 800 homeowners let rooms to TT tourists with 3,224 beds being taken up over the fortnight.
Although the figure is down by around 300, Isle of Man Tourism's Nikki Salmon said they are "happy with the uptake."
Those who registered before Friday's deadline are exempt from tax on up to £1,500 of earnings from visitors.
A Tourism spokeswoman said around 2,000 bed spaces have been registered for the fortnight compared to 3,224 last year.
They also confirmed that all the island's registered accommodation is already full.
Tourism's Nikki Salmon said: "We understand that all 5,260 bed spaces in hotels and bed and breakfasts are full".
Those who have registered can provide accommodation during the TT for any number of nights between 25 May and 9 June 2013 and for the Festival of Motorcycling, which includes the Manx Grand Prix, between 17 August and 1 September.