Isle of Man ferry accident: Pier repairs carried out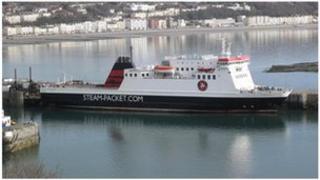 A pier damaged by an Isle of Man ferry earlier this month has undergone vital repair work ahead of the TT races.
The berthing fender on King Edward's Pier was badly damaged when the Ben-my-Chree hit it on 1 May.
A Department of Infrastructure team, including engineers, blacksmiths and divers, has now removed the pile and fender from the water.
The ferry suffered damage about 4m above its water line but returned to service the following day.
The Ben-my-Chree, which had been using the Victoria Pier since the accident, will now be able to use its usual berth during the Isle of Man TT races.
Infrastructure minister David Cretney said the damaged pier had caused a "significant hazard".
He said: "With the pile and fender removed, the Ben [Ben-my-Chree] can continue to use Number 5 berth for the foreseeable future, including throughout TT fortnight.
"Obviously, a full repair of the pile and fender will need to be carried out and we are reviewing how best to facilitate the full repair and whether an interim measure is needed, and of course we will continue to liaise with the Steam Packet Company to ensure the timescales fit in with their schedules."
No passengers were injured when the ferry, travelling from Heysham, hit the pier.