TT Mad Sunday road safety 'remarkable', say police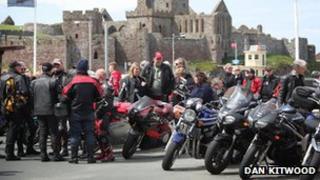 Visiting bikers showed "remarkable" road safety standards on Mad Sunday, at the Isle of Man's annual TT festival, according to police.
A spokesman said there were only four accidents yesterday, compared with dozens in previous years.
On Mad Sunday the circuit is opened to motorcyclists to allow them to travel on the same tarmac as the Superbike riders in the TT.
Insp Derek Flint said riders showed "remarkable" respect for speed limits.
"None of us can remember anything similar in recent memory. What we did see was good standards, respect for speed limits in the main, and people really heeding the message to know their limits," he said.
There have been no arrests for drinking and driving, although nine people, four local people and five tourists, have so far been arrested for other alcohol-related offences.