Japanese TT rider death 'tragic'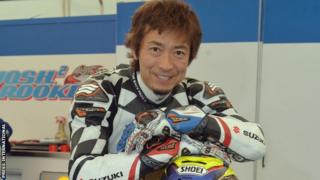 A Japanese motorcyclist died instantly when he lost control of his bike during a qualifying session for the Isle of Man TT, an inquest has heard.
Graphic designer Yoshinari Matsushita, 43, died after his motorcycle hit a kerb at the Ballacrye section of the circuit on 27 May.
Coroner John Needham recorded a verdict of death by misadventure.
The Tyco Suzuki rider first competed in the TT in 2009 and was only entered into the race earlier in the day.
Marshals said Mr Matsushita was travelling at about 150mph at the time of the accident, a speed to be expected.
His motorcycle was seen oscillating severely a short distance from the village of Ballaugh.
Despite his attempts to regain control, Mr Matsushita's bike then hit the kerb before colliding with a road sign and a tree.
Deputy Sector Marshal James Alfred Crowe said: "The bike then exploded into a mass of debris and when I got to the scene the rider was clearly dead."
'Inherently dangerous'
Mr Needham said: "Mr Matsushita's death was a tragic consequence of a racing accident,
"The very high speeds involved in practice and racing for the TT mean that such an activity is inherently dangerous."
A pathology report showed that at the time of the accident, Mr Matsushita was not under the influence of drugs or alcohol.
A vehicle examiner from the test centre in Douglas also confirmed there were no mechanical defects on the bike.
Matsushita's TT entry for the Northern Ireland-based Tyco Suzuki team was only announced earlier in the day when it was revealed that he would up teaming up with Guy Martin and Josh Brookes in the Supersport 600 event.
He was a regular competitor in the Superstock and Superbike classes and finished fifth in the 2011 TT Zero for electric bikes.