Viking Longboat World Championships celebrate 50th year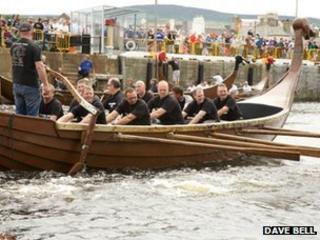 More than 800 people competed in the 50th Viking Longboat World Championships in the Isle of Man on Saturday.
Organiser James Lee said 80 teams entered the annual race staged in Peel.
The event is normally capped at 70 teams but an exception was made to mark the 50th anniversary.
Mr Lee said the interest had been phenomenal. "Normally we turn entries away but this year it was the more the merrier," he said.
Every crew member in the event is required to row using an 11ft (3.3m) oar and each team must complete at least two practice runs in preparation for the event, which was first held in 1963.
As part of the 50th year celebrations a one-off longboat race involving former winners will be held in Peel later in the summer.