Crown dependencies 'considering' major GCSE changes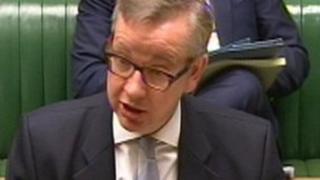 The three crown dependencies of the Isle of Man, Jersey and Guernsey are considering whether to act on major changes to GCSEs in England.
UK Education Secretary Michael Gove plans to overhaul the exam system to help pupils in England "compete with the best in the world".
He said there would be more focus on end-of-year tests and a change from letters to numbered grades.
A spokesman for Isle of Man Education said it was a "major decision".
The Isle of Man's head of secondary education Paul Craine said: "We are not rushing into any decisions but there is a chance we will break from the English system.
'Huge significance'
"Whatever decision we make will have a considerable significance for our children's education for the next decade as well as the recruitment of teachers."
"The changes appear to widen the divide between the examination systems in England, Northern Ireland and Wales, which leaves the Isle of Man with choices as to the future direction of our education system.
"The choice is not straightforward."
Jersey and Guernsey are also considering whether to act.
A Jersey education department spokeswoman said: "These latest plans are the subject of consultation over the summer so it is not yet clear exactly what will be implemented."
Guernsey's Education Minister, Deputy Robert Sillars, said: "We are currently reviewing the curriculum and looking at developments in England and other jurisdictions but as yet have made no decisions about the way forward from 2015."
According to Mr Craine the three crown dependencies will now work together to "explore all options".
He added: "We will make sure we have all the options clearly before us before any decisions are made as they will have huge significance."
From 2015, GCSEs in England will move from coursework to exams at the end of two years and will be graded from 8 to 1, rather than A* to G.
They will push for a more stretching, essay-based exam system, reminiscent of O-levels, taken by pupils until the late 1980s.