Bray Hill crash: Review launched by Auto Cycling Union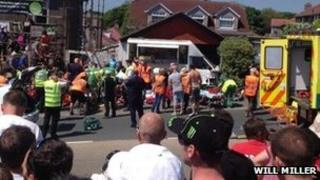 A review is under way into motorsport events on the Isle of Man after 10 spectators were injured in a crash during last week's Senior TT race.
A spokesman for the Auto Cycling Union (ACU) said it was "standard procedure".
The ACU will examine video footage of the crash and witness statements before deciding if any new safety measures are needed.
Three of the injured fans have since been transferred to UK hospitals for specialist treatment.
The rider was discharged from hospital the following day.
Barnsley man Jonathan Howarth suffered a minor fracture after crashing on Bray Hill near the start of the opening lap.
Bray Hill is one of the most popular vantage points for TT spectators.
The race, which was halted following the crash, restarted and was won by Morecambe's John McGuinness who set a new race record in claiming his 20th TT triumph.