Isle of Man could break from English examination system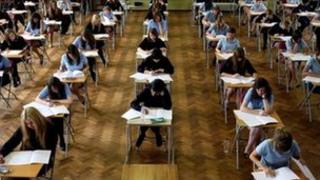 The UK education secretary's plan to overhaul the GCSE examination system could see the Isle of Man break away from the English examination system.
Michael Gove's plans include more focus on end-of-course tests and a change from letters to numbered grades.
The Isle of Man's head of secondary education Phil Craine said a break from the English system "is possible."
The three crown dependencies are all considering whether to act on the major shake-up.
Mr Craine said: "These changes appear to widen the divide between the examination systems in England, Northern Ireland and Wales which leaves the Isle of Man and the other crown dependencies with major choices."
'Different philosophies'
Mr Craine continued: "In the future GCSEs in England may be linear, graded from eight to one, and exclude coursework whilst those in Northern Ireland and Wales may remain modular, graded from A*-G and include coursework."
The head teacher at the island's largest secondary school, Adrienne Burnett, said: "We will approach the current proposals positively and with an open mind."
Mrs Burnett said: "We are in the fortunate position in the Isle of Man of being free to choose the examinations that will best serve our students and our island community.
"We are not tied to any decisions made in England, nor will we ignore them if they are in the best interests of our young people".
Mr Craine added: "We are not rushing into any decisions but there is a chance we will break from the English system.
"The choice is not a straightforward one because it involves different philosophies of education."
Jersey and Guernsey are also considering whether to act.
According to Mr Craine the three crown dependencies will now work together to "explore all options".
It is only six months since Mr Gove's proposed plans for an English Baccalaurete Certificate were abandoned after facing strong opposition.
From 2015, GCSEs in England push for a more essay-based exam system, reminiscent of O-levels, taken by pupils until the late 1980s.