New Isle of Man ferry plan to 'bring down' prices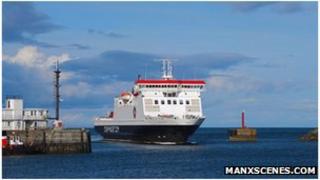 An additional ferry service between the Isle of Man and Liverpool "will bring down prices and improve customer service", according to new operators.
The Ellan Vannin Line, owned by Manx company Sea Alliance, plans to bring in a freight service later this year and a passenger service by April 2014.
All island operations are currently handled by the Steam Packet Company.
Sea Alliance head Kurt Buchholz said: "People want an affordable alternative and a better quality of service."
He added: "We know from our research that the prices people have to pay at the moment are about 35% higher than anywhere else in Europe."
A spokesman from the Steam Packet company said: "An independent 18-month study by a Tynwald Select Committee looked into fares and charges and concluded that Steam Packet passenger fares were 'very competitive'."
"Since then freight fares have substantially reduced and a rival container service proved uneconomic. The market has proven too small for long-term competition. Assertions to the contrary by Ellan Vannin Line are simplistic and simply cannot be substantiated."