Isle of Man snow: Governor pays tribute to 200 'heroes'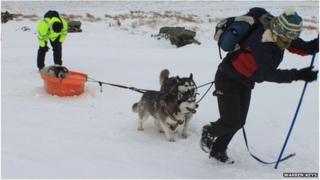 The Isle of Man's lieutenant governor has paid tribute to "snow heroes" who helped neighbours and livestock during March's heavy snow.
Two hundred people were invited to the reception including members of the emergency services, the Manx Electricity Authority and farmers.
Adam Wood said: "The weather was exceptional but so was the response of the Manx public."
The snow was the worst recorded in the Isle of Man for 50 years.
People were left stranded and more than 15,000 livestock were killed as a result of the snow storms.
Mr Wood added: "Many worked for long hours in extreme conditions to protect lives and restore normality.
"This reception was an opportunity to mark that tremendous effort and for me to personally thank some of those who helped."
It is estimated more than 10% of all the sheep on the island died as a result of being buried in the snow, although some farmers may have lost in the region of 70% of their stock.
About 90% of the Isle of Man is given over to agricultural production with about 450 farms, some with thousands of livestock.
Hundreds of people were also left without power during the snow.