Isle of Man Parish Walk: Fifteen hundred begin race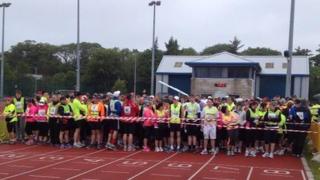 Around 1,500 walkers have begun the 100th Isle of Man Parish Walk.
The event, in which participants visit all 17 of the island's parishes, was first held in 1923 although other versions date back to 1848.
To complete the walk people will need to cover 85 miles (137km) within 24 hours.
Last year, Vinny Lynch and Richard Gerrard crossed the line together to win in a new record time.
Their time of 14 hours, 42 minutes and 32 seconds was three minutes inside Sean Hands's 2006 time.
The 2012 event saw 203 people completing the 85 mile walk, the most since the event began.
'Jelly babies and tea'
Former five-time winner Robbie Callister said: "Each year you want to push yourself further, go faster or beat a friend.
"It's a major challenge and a great sporting challenge which has grown into a big social event as well. A lot of people take it very seriously and it can consume you.
"To finish it you've got to put in hours and hours and miles and miles of walking to get yourself ready.
"I would say it is 30% physical and 70% mental fitness."
Race Director Ray Cox, himself a finisher, said: "It is a real community event which shows the Isle of Man in its truest and best light. Thousands of people come out to cheer the competitors on, offering them jelly babies and cups of tea.
"The challenge is a real feat and to win the race is startling and it is a real privilege to see them doing battle.
"It is the 100th time that the current recognised route has been used and we hope this year will be a real classic."
Competitors have the option of pulling out at any stage but typical targets are Rushen after 19 miles or Peel after 32 miles.
Everyone who reaches Santon will receive a centenary medal.