Isle of Man Parish Walk: Michael George wins first title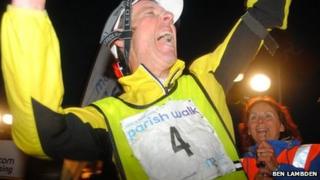 A hotelier from Douglas has won the 100th Parish Walk endurance event on the Isle of Man.
Michael George, 47, completed the 85-mile race in 14 hours, 44 minutes and 49 seconds - just over two minutes outside the race record.
"I am over the moon, I've finally done it," he said, after finishing over six minutes ahead of rival Richard Gerrard.
Four-time champion Jock Waddington finished third, with Janice Quirk topping the women's table.
Ms Quirk was sixth overall, with her time of 16:16:39 making her the third quickest woman in the event's history. Mr George becomes the third fastest man.
In total, 215 of the 1,400 starters completed the race in the 24-hour time limit, the most since the event began.
Participants visit all 17 of the island's parishes during the event, with competitors having the option of pulling out at any stage.