Chief Minister attends British-Irish Council Summit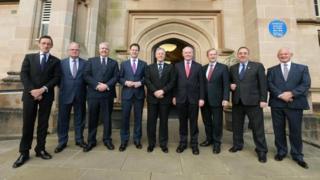 The Isle of Man's Chief Minister has attended the 20th British-Irish Council Summit in Northern Ireland.
Allan Bell discussed issues including youth unemployment and energy costs with leaders from the UK, Ireland and the Channel Islands.
He said the council was a "valuable forum" for the Isle of Man and a place to develop "positive links."
The British-Irish Council was established under the terms of the Good Friday peace agreement in 1998.
Mr Bell met with Northern Ireland's first and deputy first ministers, the Irish Prime Minister (Taoiseach), Enda Kenny, the first ministers of Scotland and Wales and the chief ministers of Guernsey and Jersey.
He added: "The British-Irish Council has always been a valuable forum for the Isle of Man, allowing us to take our place alongside the governments of our neighbouring islands and discuss common challenges at the highest level."
Mr Bell also met with UK Deputy Prime Minister Nick Clegg and Scottish First Minister Alex Salmond.