Summerland fire memorial built to mark 40th anniversary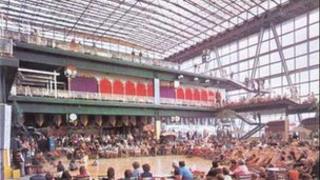 A memorial to the 50 people who lost their lives in the Summerland disaster 40 years ago is to be built in Douglas.
The three-column design will be erected in the Kaye Memorial Gardens, at the bottom of Summer Hill by Douglas Borough Council.
It will be unveiled by the mayor of Douglas at a remembrance service on Friday 2 August.
The disaster led to a major change in fire regulations on the Isle of Man and in the UK.
The Summerland leisure complex had been open for just over two years when the tragedy happened.
The fire, sparked by three boys illicitly smoking, killed 50 people and gutted the complex within minutes.
The memorial will take the form of three granite columns, bearing the names of those killed in the fire, set into a 3m-diameter circle of paving.
Council leader David Christian said it was one of the "most tragic events in Manx modern-day history.
"The Summerland fire claimed the lives of 50 people. The memorial will honour the memory of those who perished and its setting in the Kaye Memorial Garden will serve as a place of quiet contemplation."
The memorial will be alongside a stone laid in August 1998 to mark the 25th anniversary.