Joey Dunlop memorial TT course lap delayed by 24 hours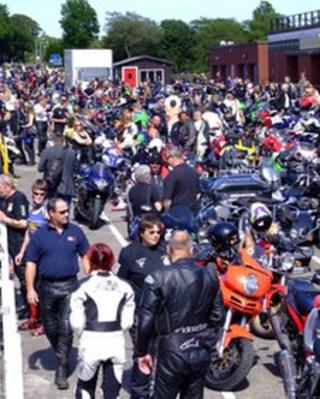 A lap of the Isle of Man TT course in honour of the event's all-time leading winner has been delayed by 24 hours due to safety concerns.
The annual tribute by bikers is held on the 2 July, the date the racer died in a racing accident in Estonia in 2000.
The tribute which sees hundreds of bikers complete a lap of the course will now be held on Wednesday.
Bikers are asked to meet in the TT pit lane for a 19:00 BST start.
Kevin Quirk, of the Joey Dunlop Foundation, said it was postponed for safety reasons after poor weather was forecast for Tuesday.
He said: "Last year we had around 300 bikers so we can't take any risks with their safety and the safety of other road users. Thick fog and rain is forecast and it wouldn't have been safe."
Dunlop, 48, died at a race in Estonia in July 2000, weeks after completing a hat-trick of wins on the Isle of Man.
In a remarkable career he had 26 TT wins - six more than Morecambe's John McGuinness, who is still racing.
Dunlop's nephew Michael won four TT races at this year's event in June.