Sierra Leone formally thanks island for patrol boat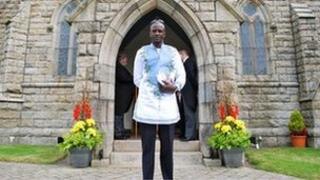 A representative from Sierra Leone has visited the Isle of Man to thank Manx residents after the donation of a fishing patrol vehicle.
Ibrahim Pat-Sowe said the vessel is helping to address illegal fishing in the country's territorial waters.
The former Manx customs and excise vessel was handed over to the Sierra Leone government last October.
"It is the only patrol vessel we have and it has made a big difference to our fishery," Mr Pat-Sowe said.
"The island just keeps doing more and more to help us so it is about time we came over here to say thank you."
Eight arrests
The West African country of Sierra Leone faces a huge problem with unauthorised trawlers catching fish.
The Manx-donated boat has been named 'Isle of Man' and is now the fastest in the country's waters.
According to the Isle of Man government, the move has already led to about eight arrests and $400,000 worth of fines being imposed.
The vessel allows patrols to stop and inspect any fishing boat in their national waters and fines of up to $1m can be imposed for trawlers in breach of the law.
Main exports from Sierra Leone include diamonds, minerals, cocoa, coffee and fish.