World Tin Bath Championships held in Castletown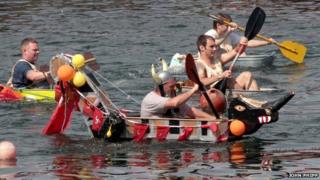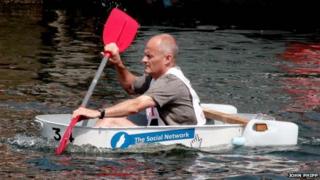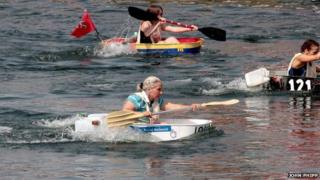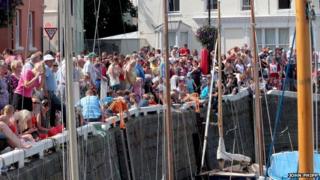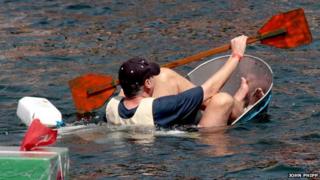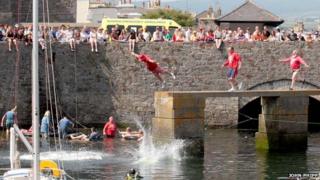 The 42nd annual World Tin Bath championships on the Isle of Man have raised more than £6,000 for local charities, said organisers.
Hundreds of spectators crowded around Castletown's harbour to watch competitors paddle for glory in their individually decorated tin baths.
Previous winner Lee Cain won the men's race, while Erica Cowen clinched her 15th women's world title.
Competitors use tin baths like small paddle boats in the event.
The winner is the first to reach the finish line of the 400m course or the person who covers the furthest distance without sinking.
'Granny's fire'
More than 80 competitors from the Isle of Man, the UK, Europe and even the United States took part.
Organiser David Collister said admission to the event had raised more than £6,000 and added that the figure could increase through sponsorship.
He said: "People just like to have fun and the spectators come because they like to see people get wet and they like to see people sink.
"It's two hours of family fun and slapstick entertainment involving household tin baths that your granny will have used in front of the fire."
Garret Jones had the dubious honour of being the first person to sink whilst the RNLI entry, the Sir William Hillary, was voted the best design.
The snake race, in which teams of six sit backwards on inflated tubes and paddle with arms and legs to reach the finish line, was won by the Southern Young Farmers.
The event, which attracts huge crowds, has been running since 1971 and recently featured in the Daily Telegraph's top ten weirdest festivals to attend in July, ranking alongside Cornwall's Nudefest and Finland's Wife Carrying World Championships.