Alex Salmond visits Isle of Man Solway memorial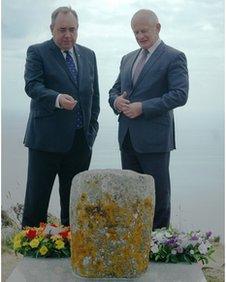 Scotland's First Minister Alex Salmond has laid a wreath at the Solway Harvester memorial on Douglas Head during a visit to the Isle of Man.
The dredger sank off the Manx coast in January 2000 with the loss of seven men, all from Dumfries and Galloway.
Mr Salmond was joined by the Isle of Man's chief minister Allan Bell.
The Isle of Man government spent more than £1m to raise the vessel and retrieve the bodies from the wreck, which remains in Douglas harbour.
The Solway Harvester sailed from Kirkcudbright in the early hours of 10 January and headed to the queen scallop grounds of the Irish Sea.
The vessel sank in stormy waters and was later found lying on its side in 35m (115ft) of water.
The bodies of all the crew members were still on board. The men were all from the Isle of Whithorn area of Dumfries and Galloway.
The memorial is located on Douglas Head on the families wishes. Mr Salmond said: "They chose wisely."
Mr Bell said: "Scotland is the island's nearest neighbour geographically and the two countries have strong historical and cultural connections.
"We have been watching developments in Scotland with considerable interest."
He added: "I am looking forward to learning more about Mr Salmond's aspirations for the future."
Mr Salmond will also visit Tynwald Hill in St John's and the island's only Manx speaking school to see how the ancient language is now flourishing.
Related Internet Links
The BBC is not responsible for the content of external sites.