Isle of Man missing fishermen search: Bodies found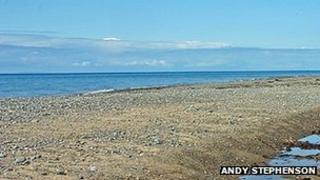 Search teams looking for two missing fishermen have recovered two bodies from the sea.
The men, in their 60s and from the Isle of Man, failed to return from a fishing trip off Blue Point, north of Ramsey, on Friday.
Lifeboats from Ramsey, Peel and Port Patrick found their upturned flat-bottomed boat at about 06:00 BST.
The search was led by the Liverpool Coastguard along the west coast of the island.
A spokeswoman for the Maritime and Coastguard Agency said: "Liverpool MRCC (Maritime Rescue Co-ordination Centre) has called off the search for two missing anglers off the Isle of Man coast after two bodies were recovered from the sea to the north of the island this afternoon."
Liverpool MRCC co-ordinated an air and sea search covering more than 360 sq miles (930 sq km) of sea with the help of rescue helicopters from RAF Valley and RNAS Prestwick.
The Maritime and Coastguard Agency's fixed-wing aircraft was involved in the search, as werevessels in the area which responded to the Coastguard broadcast.