Extra ferry services follow propeller rope entanglement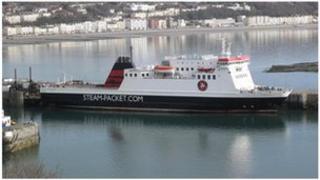 An extra ferry crossing will run later after ropes from a fishing boat became caught in the propellers of an Isle of Man Steam Packet Company ferry.
Two return sailings of the Ben-my-Chree to Heysham were cancelled on Sunday after the discovery was made during a routine inspection.
A spokesman for the Manx ferry operator said an extra sailing to Heysham using the Manannan would run on Monday.
The Ben-my-Chree returned to service after divers untangled the ropes.
The spokesman said the extra Manannan crossing would sail to Heysham at 22:30 BST, with the return crossing at 01:30.
A revised schedule can be found online.