Isle of Man airport parking charges to change in August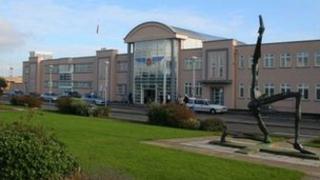 A new system of parking charges will be introduced at Ronaldsway airport later this month, the Isle of Man government has confirmed.
Free parking will be reduced from one hour to 30 minutes from 15 August.
Short stay parking will be charged at a tariff of £1 between 31 minutes and an hour, £1.50 for up to two hours and £2.50 for up to four hours.
Disabled parking will continue to be free of charge for airport patrons.
The initial proposal to charge for the entire first hour was met with opposition from the Isle of Man's passenger watchdog last month.
Infrastructure minister David Cretney said: "I believe that having a 30 minute free period takes note of the public comments and responds in a positive way.
"We will also re-instate a conveniently placed disc zone within the short stay car park, for genuine short-term users, so that meeters and greeters or those with mobility issues can park near the terminal and collect their passengers and luggage, and depart within the 30 minute period."