Twenty thousand attend Royal Manx Agricultural Show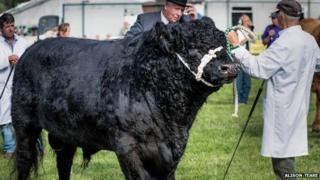 More than 20,000 people have attended the annual Royal Manx Agricultural Show held at Knockaloe Farm in the Isle of Man, organisers have confirmed.
The two-day farming event was first held in the Isle of Man in 1858.
Secretary Christine Pain said: "The weather was great and we had huge crowds of people through the doors on both days."
Bride farmer John Teare's five-year-old Galloway bull was crowned this year's Supreme Champion.
It is the first time Mr Teare, of Ballavair Farm, has won the title.
He said: "It is a little bit overwhelming and the whole family is delighted. It is a real team effort I must thank everyone involved.
Klondyke Powerplay
"When you look at the trophy there are some amazing farmers and incredible livestock [on it]."
Mr Teare bought the bull named Klondyke Powerplay from Castle Douglas in Scotland in 2009.
His wife Allison said: "We are all over the moon. Three generations of the family are involved on the farm and we are very proud of our achievements."
The bull is a former winner of the Royal Highland Show in Scotland and has already fathered more than 30 daughters on the Isle of Man.
As well as the traditional livestock competitions the two-day show featured more than 140 stands on a 19 acre (seven hectare) site.
The show also included vintage and modern agricultural machinery displays, craft displays, food and trade stands and stunt shows.
Last year the show celebrated the 60th year of its Royal Charter and its president, Brian Caley said: "It's one of the biggest events on the Isle of Man, the farmers put on a really great show."
It is the third time the show has been held in Patrick after moving from Sulby, its home for 20 years, in 2010.