Manx prison officer Tony Jones first to get bravery award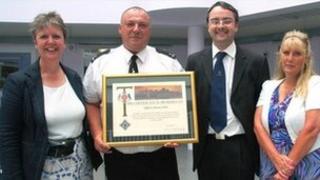 A Manx prison officer who saved the life of an inmate at Jurby prison has become the first recipient of an Isle of Man government award for bravery.
Tony Jones was awarded the Department of Home Affairs' Ministerial Commendation for going "above and beyond the call of duty".
A government spokesman said Mr Jones had "put his body on the line to save the prisoner", last March.
The officer caught a man who had jumped from a prison landing.
The spokesman added: "The incident occurred in March when a prisoner climbed the railings on the top landing of a wing at the prison, intending to harm himself by throwing himself to the floor below.
'Prevented death'
"Tony spotted the danger unfolding and reacted quickly to break the prisoner's fall".
According to the department, the new award honours those who demonstrate bravery, self-sacrifice or extreme commitment to the protection of the public.
Prison Governor Alison Gomme said his actions were "above and beyond the call of duty".
"Thankfully, events such as this are extremely rare at the Isle of Man prison, and the response to this particular incident demonstrates the high level of professionalism and commitment of staff at the prison," she said.
Mr Jones, who has worked as a prison officer since 1997, said he was "honoured" to be the first recipient of the award.
He said: "The incident itself happened very quickly and I just reacted to the circumstances to protect the welfare of the prisoner involved."
Home Affairs minister Juan Watterson, said: "His brave and selfless action prevented death or serious injury to the prisoner and he is a very worthy recipient of this new honour."